Anyone over eighteen (18) years of age may enter, no purchase necessary. The artist can produce his work using any artistic medium, computer-generated or not. Only one (1) entry per person is accepted - The Contest Holders believe that only one's own work should be awarded, so No group projects or commissions are permitted, and each entry must be original, non-published artwork. Although there is no restriction concerning the pictures' minimum or maximum resolution, we recommend working on higher resolutions. All copyrights related to the submitted artwork will remain with its respective creator. The Musclewomania Art Contest Sponsors won't give, share or sell any of the artwork or contact details or personal information submitted.
Submitting Your Entry
All entries must be submitted by email to musclewomania@gmail.com under the subject [Contest Entry] <Character Name> by (date TBA). An email confirming the receipt of the entry will be sent within 48 hours. The entry must contain two different pictures and an optional text file:
Character ID
Character ID- The Character ID should be a full-body image of the character, highlighting its main features. It is essentially the artist's business card, through which the Musclemania Sponsors will be introduced to the style, technique and originality of the entry contestant.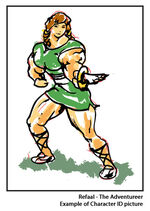 Theme Picture
Theme picture- The Musclewomania Art Contest provides a broad but unifying theme. Artists must create an image of their character that somehow exemplifies the theme of the contest. The Theme picture is a great showcase for the contestant's talent and personal expression. The current theme for I Musclewomania 2009 Art Contest shall be "PARTY" .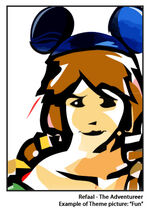 Character Background (optional)
The Character Background is entirely optional. It should be a short paragraph (50 words min. - 200 words max.) describing the character, its statistics and background story. It may be written in whatever style the artist prefers, and may be merged with the Character ID picture, although this is not required. The background will have no effect on the actual scoring of the entry in question. It only allows the Musclemania Sponsors to link the artist`s ideas for the character with the concrete artwork presented.